Low-Calorie Recipes for the Intermittent Fasting Diet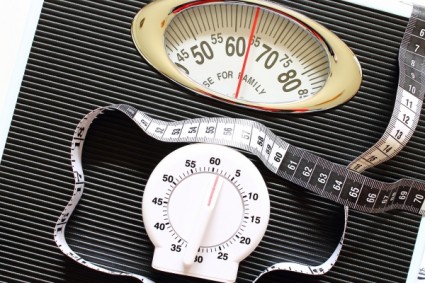 What Is the 5:2 or Intermittent Fasting Diet?
The Intermittent Fasting, or 5:2 diet, was devised by Dr. Michael Moseley following his research about the effects of fasting on the human body. He discovered that the human body benefits from periods of intermittent fasting and that some of those benefits include sustainable weight loss, lowered levels of blood cholesterol, a reduction in the risk of cancer, cardiovascular disease and Alzheimers.
Intermittent fasting is the process of alternating between periods of fasting, where caloric intake is severely restricted, and periods of 'feasting' where caloric intake is not restricted.
Dr. Moseley advises women to restrict their intake to 500 calories on fasting days and 600 calories for men. On non-fasting, or feasting days, you can stick to your normal diet.
Dr. Moseley has determined that for most people who are trying to lose weight, a pattern of two days of fasting per week and five days of non-fasting (ie. normal eating) is most easily achievable and maintainable. It is important though not to overeat on non-fasting days and to just stick to a regular eating pattern and diet. If you find that your weight loss has stalled you can alter the pattern to a 4:3 pattern, where you fast for three days and feast for 4 days a week. Once you have reached your goal weight, a 6:1 pattern can be followed to maintain your weight.
By following the 5:2 diet, most people can expect to lose between one and two pounds per week.
About the Recipes
This article lists some low calorie recipes that you can enjoy on your fasting days that will leave you feeling full and satisfied.
All the recipes are easy to adapt to your own taste.
Adapting the Recipes to Suit You
All of the recipes in this article are very adaptable. If you change any of the ingredients though it's important to still know how many calories you are eating, so you will need to do your own research to find out the amount of calories per amount of food you are eating.
I use and recommend the MyFitnessPal app, available from the Apple App Store and on Google Play.
Coconut Oil
Any kind of coconut oil will do. If it's solid, put the jar in hot water to let it liquefy. Coconut oil is processed by the liver rather than it being stored as fat like so many other types of oils, so it's an almost instant energy hit that will keep you going for a few hours.
If you don't like the taste of coconut, use refined coconut oil rather than virgin coconut oil.
Ten grams of coconut oil contains around 90 calories, so on your fasting day you could survive on just 5 serves of coconut oil.
I put it in unsweetened coffee to make what is known as bullet-proof coffee.
Other ways of eating coconut oil:
In low-calorie yogurt
Swallow it straight (not my thing but some people might be able to do it)
Mixed with scrambled egg
On salads
Ideal for frying as it has a very high smoke point (especially refined coconut oil)
In sauces
Yogurt, Berries and Pepitas
This is a deliciously-sweet, filling dish that is high in protein and various minerals and vitamins but very low in calories, so you could afford to eat it 2-3 times on a fasting day or to simply have a larger amount in one sitting.
100g Unsweetened natural yogurt = 84 calories
100g Mixed berries ( I like to grind mine up in my Nutri-bullet ) = 43 calories
10g Pepitas = 50 calories
Stevia to taste = 0 Calories
Total calories: 177
Yogurt, Berries and Pepitas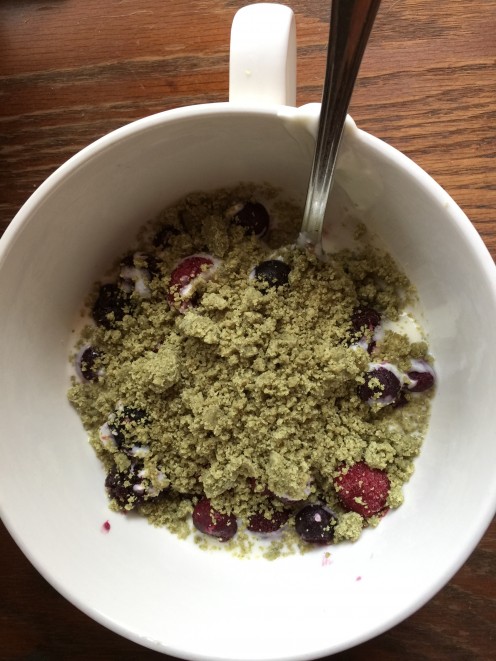 Home-made Coconut And Banana Ice Cream
Click here to be taken to the recipe I follow when making banana and coconut ice-cream that doesn't require the use of an ice-cream maker.
Home-Made Coconut and Banana Ice-cream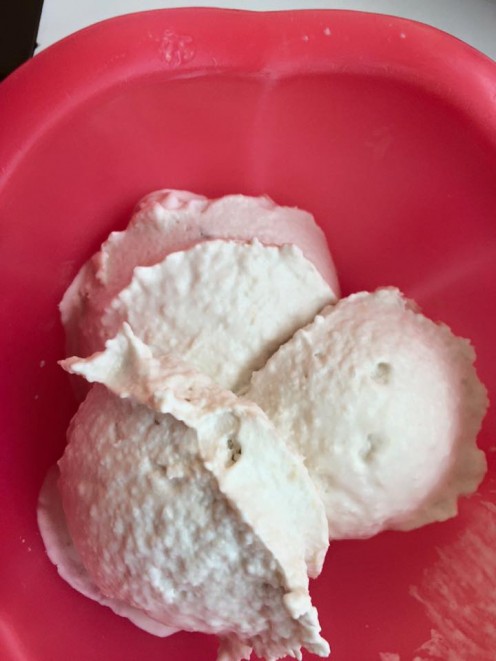 Tuna and Mustard on Toast
70g can of tuna (you may wish to use salmon, trout or sardines) with springwater instead of oil = about 80 calories
1 slice of bread = 72.5 calories (using 'Has No' gluten-free bread)
10 g of wholegrain french mustard = about 15 calories
Total calories = around 162.5 calories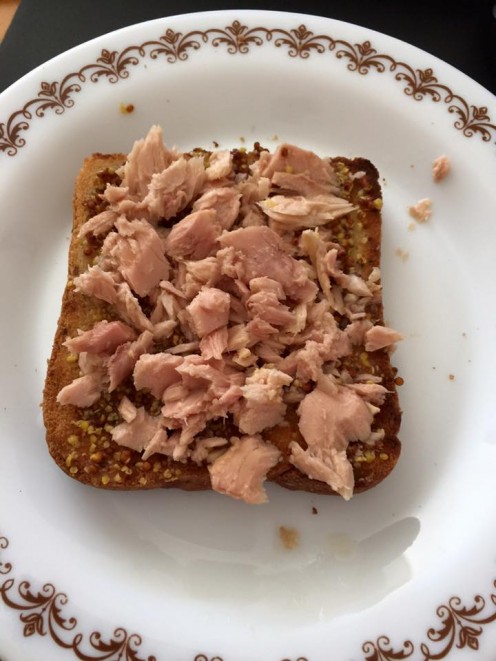 Stuffed Mushrooms
This dish is one for mushroom lovers. Calories will vary depending on the ingredients and brands used but for mine I counted 359 calories.
I used:
Three medium Portobello mushrooms – 250g = 55 calories
Low-fat ricotta cheese – 100g = 116 calories
Low fat grated cheedar cheese – 40g = 130 calories
Boneless leg ham 30g = 45 calories
Chopped parsley – 1/4 cup = 5 calories
Diced red capsicum – 20g = 8 calories
Preparation:
Pre-heat oven to 180 degrees Celsius
Remove the stems from the mushrooms and dice them
Finely cut the ham
Combine the ham, capsicum, parsley, ricotta cheese and diced mushroom stems in a bow and mix well
Spoon the above mixture into the inverted mushrooms
Sprinkle with the grated cheese
Cook in pre-heated oven still at 180 degrees Celsius for 20 minutes
Stuffed Mushrooms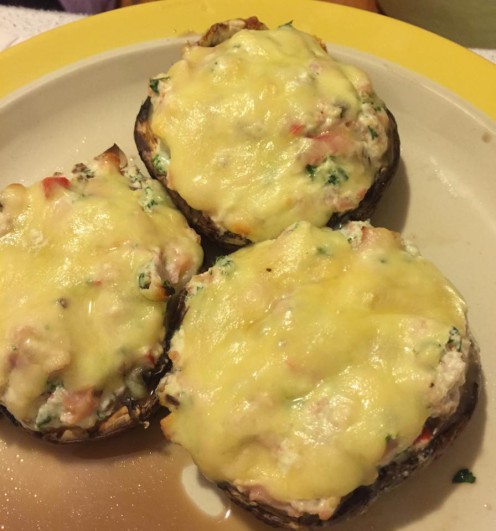 Rice Cakes, Nutella And Banana
A thin smear of Nutella on two rice cake, topped with a small thinly sliced banana, with a cup of skim milk.
About 200 calories in total.
Banana and Nutella Rice Cakes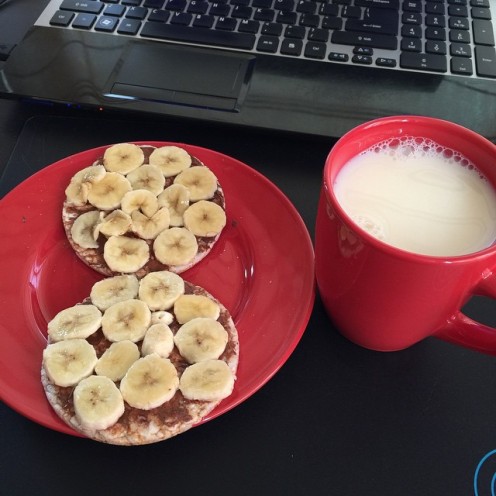 A Bowl Of Popcorn.
25g of air popped popping corn = 91 calories
Cooked in 5ml of oil add about 50 calories = around 141 calories
Popcorn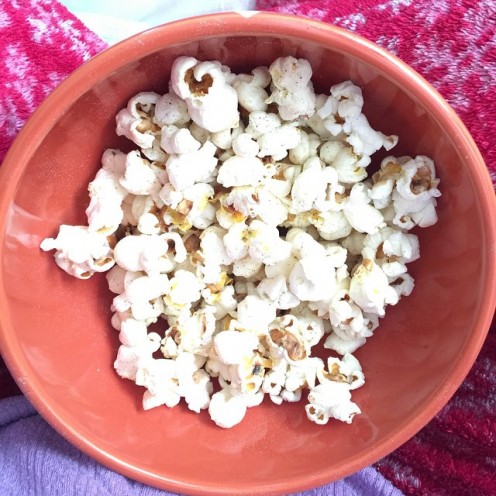 Mushroom Delight
Mushrooms are very low in calories but very filling.
260g chopped Portobello mushrooms
75g chopped green beans
50g grated zucchini
1 spring onion
2 large eggs (90g each)
5g minced garlic
10g wholegrain mustard
10g grated cheese
Mix all ingredients except cheese and eggs in a non-stick frying pan and cook for 5 to 10 minutes on high heat (no oil is needed as the mushrooms will lose water which will flow into the frying pan).
Add eggs and cook for a further 1-2 minutes
Remove from heat and serve with cheese sprinkled on top
Total calories: approximately 270.
Mushroom Delight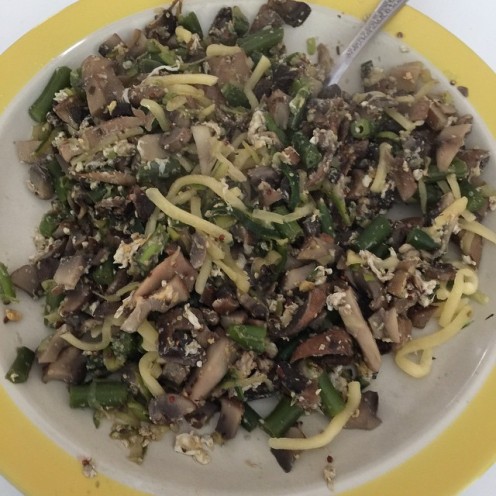 Kiwi And Red Capsicum
This is a delicious snack low in calories and high in Vitamin C and anti-oxidants.
Slice one kiwi fruit (100g = 20 calories) and some red capsicum (100g = 40 calories).
Red capsicum is also know as a red bell pepper.
Kiwi Fruit And Red Capsicum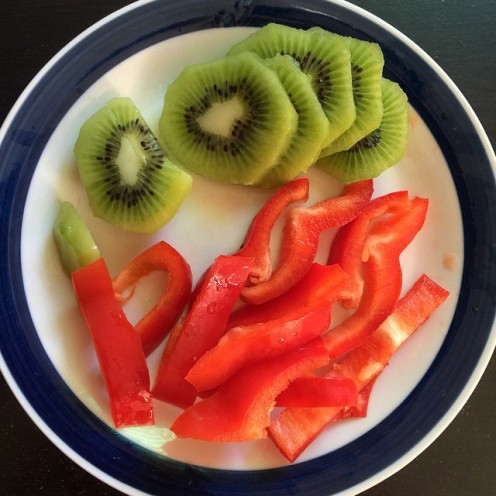 Lettuce Leaf Wrap
Makes one wrap:
1 leaf of Cos lettuce – 8 calories
25g grated raw carrot – 9 calories
25g grated zucchini – 4 calories
50g sliced chicken breast – 83 calories
Total calories: 104 calories
Lettuce Leaf Wraps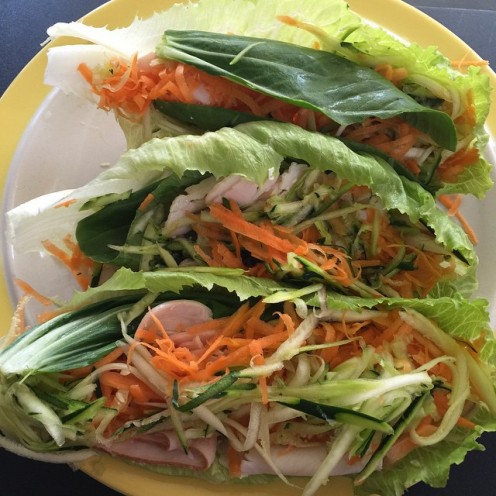 Carrot And Capsicum Snack
If you're feeling a bit peckish between meals on your fasting days, you might want to try this snack of grated carrot with chopped raw capsicum (also known as bell pepper). Calories will vary depending on the amount you eat, but this is a very low-calorie snack. Use the MyFitnessPal app to check the number of calories you're consuming.
Grated Carrot And Chopped Capsicum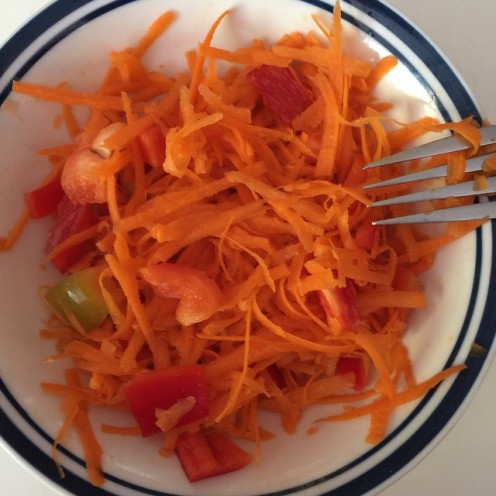 Chicken Salad
Including some quality protein in your meals will help keep you feeling full for longer.
This recipe calls for a chicken patty with a vegetable salad.
Chicken Burger Patties – Woolworths Select brand – 125g = 181 caloroes
Use loads of vegetables to help fill you up and check their calories with the MyFitnessPal app.
Chicken Salad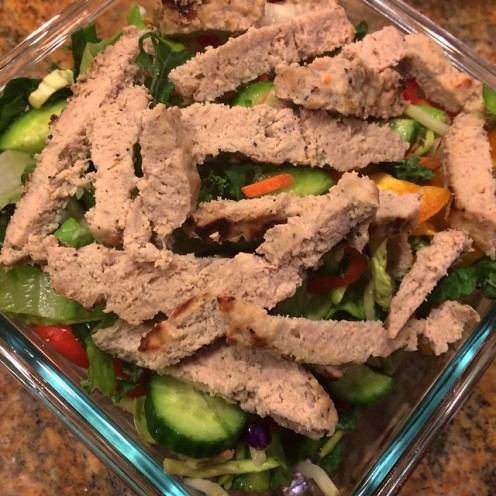 Rice Cake Treat
This is a low calorie, high protein filling snack, or have two or three for a meal.
One rice cake – calories vary by brand but around 25 – 45 calories
2 grape tomatoes – 4 calories
1/2 teaspoon Basil and garlic mince – home made using a mortar and pestle – 3 calories
1 tablespoon of low-fat cottage cheese – about 15 calories
Total calories: 47-67 calories per serve. Use the MyFitnessPal app to check the exact amount of calories according to the brands of ingredients that you use.
Rice Cake Treat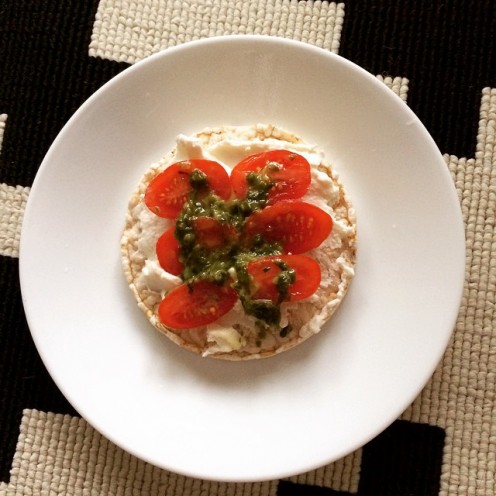 Green Smoothie
A green smoothie is the perfect way to ensure you're getting a healthy serve of greens. Blend some leafy green vegetables with half a cup of skim milk. If you don't like the taste of just greens, add some fruit but try to stick to just one piece of fruit to keep the caloric load to a minimum. I like to add an orange or a ripe banana.
1/2 cup of skim milk = 45 calories
1 Valencia orange = 85 calories or 1 small ripe banana = 90 calories
1 cup of chopped leafy green vegetables such as kale, spinach, chard, pak choy = 50 calories
Total calories = 185
I recommend using the NutriBullet Pro 900 as it will completely extract your food, making the digestion and absorption process easier. The NutriBullet Pro 900 is a much improved and even more powerful version of the original NutriBullet 600.
Green Smoothie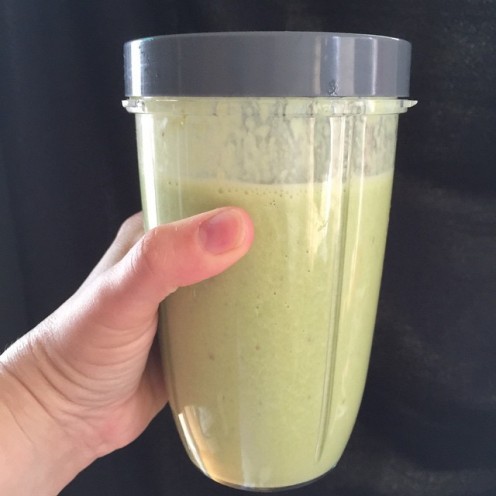 Low Calorie Carbonara
Slendier noodles are very filling and nutritious but best of all they contain only 8 calories per 100 grams!!
For this recipe I used:
250g packet of Slendier noodles (20 calories)
150mls low-fat thickened cream,
bacon with the fat removed,
parmesan cheese to taste,
rice bran cooking spray to cook the bacon.
Instructions:
Cut the bacon into small pieces and fry it in cooking spray or a very small amount of cooking oil
Add thickened cream and leave to boil for a couple of minutes to make sauce
Remove sauce from heat
Prepare noodles as per instructions on packet
Add sauce to noodles and mix together
Add parmesan cheese to taste but be sure to measure how much you're adding so you can work out how many calories are in it.
Cook noodles as per instructions on packet
Weigh your ingredients first to work out the amount of calories in this delicious dish. For me, it added up to 320 calories.
Note: in Australia, Slendier noodles can be found at Woolworths, Coles, IGA and Foodworks.
Slendier Noodles Carbonara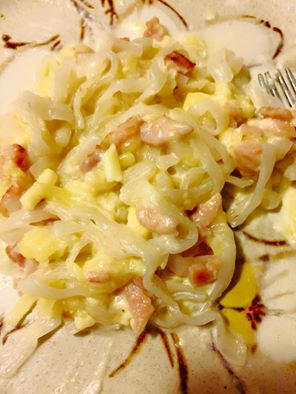 Clear Mushroom Soup
Thank you to Facebook user Michael McDougall for this great recipe idea.
Ingredients:
Thick cut Portabello, Field and Shitake mushrooms ( enough to satisfy).
Two cloves garlic.
Five cut shallots.
Two small chillis.
Two spring onions, thin sliced.
Method:
Lightly fry in deep pot with a tiny spray of oil.
Add 500 ml of either Chicken, Beef or Vegetable stock.
Ground pepper to taste.
Bring to boil, then simmer 20 mins or as desired.
This meal is usually around 100 calories depending on quantities.
Cauliflower-crust pizza
This is the pizza-lover's 5:2 way of eating pizza. The base is much lower in calories and carbohydrates than wheat-based pizza bases so it's a guilt-free alternative to traditional pizza-dough.
There are lots of different recipes for making cauliflower-crust pizza and below you'll see a video for the recipe that works well for me.
Simply add your own low-calorie toppings – I usually add mushrooms, shaved low-fat ham or shaved turkey breast, grated zucchini, onions and low-fat grated cheese.
The total calories will depend on the toppings used and the ingredients in the base.
Cauliflower-crust pizza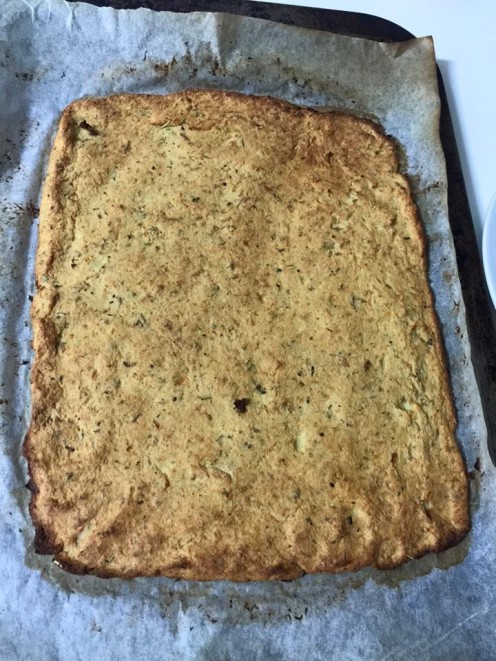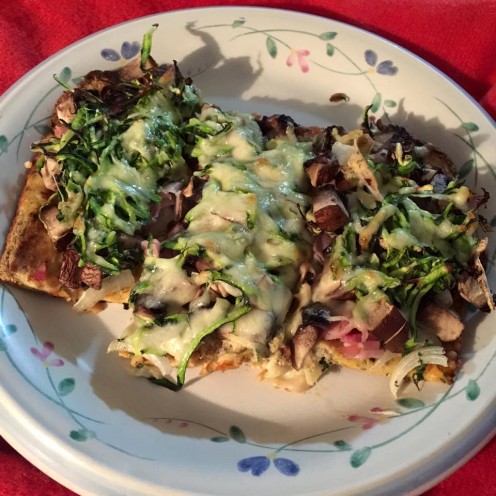 Cauliflower-crust pizza recipe
Mashed Cauliflower
Mashed cauliflower is a low-calorie, low-carbohydrate and tastier alternative to mashed potatoes. Simply steam some cauliflower then mash it.
I add a bit of garlic, some low-fat ricotta cheese or cottage cheese for protein and calcium, a dash of Parmesan cheese and a pinch of salt.
Mashed Cauliflower